Create Your Own Signature Scent Virtually
Let the bespoke custom perfume experience come to you!
If you don't live in the La Crosse area and want to have the bespoke perfume experience from the comfort of your own home, we can do it virtually! We can do this via Zoom or Face Book video chat. You can even invite your friends. So, give me a call and I can get your fragrance testing kit put together and mail it.
Your virtual kit contains everything you need for the design of a fragrance that is unique and all your own. Your kit and the finished fragrance costs $115 including shipping. If you want to invite friends, they can use your kit. But often people want their own. You can order additional kits for them for $85 each. See details below.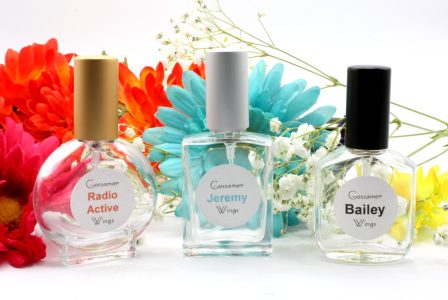 I'll put together a kit with little 1 ml bottles of 20 or more Stackable fragrances along with fragrance testing strips.  The Stackables are fragrance accords in that each one makes up a single idea or a fragrance family. For example, a crisp green accord will have green notes and notes of lemon, tea, grass and hyacinth. You may find that one or several of them evokes emotions or memories for you! Sampling these accords will reveal your fragrance personality.
We will begin our "signature fragrance journey" with a little crash course in perfumery. You will learn about fragrance notes and fragrance families.
Next, I will have you place drops of fragrance on the test strips so that each strip has a different fragrance on it. Then you will hold the strips together in various combinations with a goal to finding
which things smell best together.
When you have decided on your favorite combination and chosen a name for your parfum, I will prepare it and ship it to you.
The Create Your Own Virtual experience costs $115. This includes:
The testing kit of twenty 1ml bottles of fragrance for mixing and matching along with fragrance

 testing strips
Our fragrance design video chat
Instructional materials
One 30ml bottle of your signature fragrance custom labeled with any name you like.
Shipping for both the kit and the finished eau de parfum.
Additional kits include all of the above and cost $85 if they are shipped along with your order. The difference reflects the cost savings in postage and packaging.
Additional kits shipped to other addresses will cost $115.