Personalized Fragrances
I have a wide variety of fragrance oils that can easily be made into perfume, eau de parfum or cologne. You can choose from women's fragrances, men's fragrances and unisex. I carry a wide variety of florals, woods, herbals and more. I also have a nice selection of single note fragrances such as Lilac, Lily the Valley, Sandalwood and Cedar.
This service is available for the individual who wants a personally labeled fragrance for gift giving. For example, I can make up a perfume of your mom's favorite flower and label it with her name or nickname!   A fragrance could be called "Jeffrey's Cologne," "Nana's Perfume" or "Happy Mothers' Day!" Use your imagination.
And best of all, the service itself doesn't cost anything! You only pay for the fragrance. Making a custom label for you is my pleasure.
Call now to book an appointment! 608.386.5998
More details are below.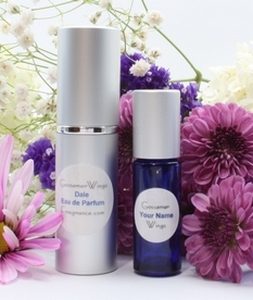 Call me to set up an appointment to meet at my perfume studio on the south side of La Crosse. You'll get to choose from dozens of ready made fragrance oils. I will work a little magic to turn it into a perfume, eau de parfum or cologne. You will pick out a bottle and I will mix it up and label it any way you like. Prices start at $28 and there is no charge for the custom label.
Let's make this personal!
Call me! 608.386.5998