The Stackable Fragrance Experience
What are Stackable Fragrances?
The Stackable Fragrances are a collection of about 20 fragrances that can be matched with each other to create a unique and more complex scent. These are elegantly simple fragrances that I've designed for this purpose. They can be stacked, meaning, laid down on the skin next to or on top of each other. They can be blended with a finger or kept apart allowing for continued exploration of their nuances.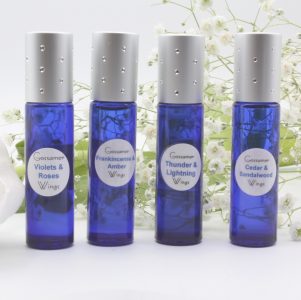 Take Fragrance to a Whole New Level!
Instead of buying one fragrance, you get 3 individual scents to combine to your liking. Each one is lovely all by itself. But the combination of two or more allows for your own creativity to become part of the experience of smell. Combining fragrance in proportions you find interesting results in a unique eau de parfum that is yours alone. Scent layering takes fragrance to a whole new level. It enables you to fully appreciate each component of the entire fragrance spectrum.
And they don't have to go all in one place! Wear different scents in different places! Spray one here and spray another one there!
If you prefer, your three fragrances can be blended in proportion that you like and made into a single eau de parfum.

Here's an example of what you could try. You might like my "Fresh Green & Hyacinth" with its top notes of lemon, celery and green tea. This fragrance will combine well with a base note fragrance such as my "Cashmere Wood & Sweet Tobacco." It also blends well with spicy fragrances. You might choose to add a third element such as a floral or a musk. From just 20 fragrances there are 1140 different combinations practically guaranteeing that no one else will have the same fragrance! (And the 20 is still being expanded.)
In Person, Shop On Line or Subscribe
In Person
To try this out in person, make an appointment to meet with me at my perfume studio on the south side of La Crosse. You can bring up to 3 friends and the fee is $80 for each person.  Call me to set up an appointment. 608.386.5998.
Purchased separately, each 10ml fragrance costs $34.  For only $80 you get three, a $102 value.  For no extra charge I can custom label any of your fragrances! And I will keep your favorites and formulas on file for reorders and refills.
Shop On Line
Click here to shop from the entire collection.
Subscribe
Click here to subscribe and receive something new every month.
Your fragrance is waiting. Come find it!
Call me! 608.386.5998