The Create Your Own Signature Scent Experience
This method of designing a fragrance lends itself to a shared experience with your relevant other or a couple of friends. I can accommodate up to 4 people. The cost is $28 per person.
The Create Your Own method is a fun and easy way to design your signature scent.
I have composed 20 elegantly simple fragrances which are designed to be combined with the others to create a complex eau de parfum that is uniquely yours. For example, you might like my "Fresh Green & Hyacinth" with its top notes of lemon, celery and green tea. This fragrance will combine well with other base note fragrances such as my "Cashmere Wood & Sweet Tobacco." It also blends well with spicy fragrances. You might choose to add a third element such as a floral or a musk. From these 20 fragrances there are 1140 different combinations practically guaranteeing that no one else will have your signature fragrance!
Call now to book an appointment! 608.386.5998
More details are below.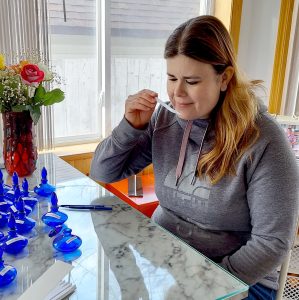 The Create Your Own Signature Scent process takes place in my studio on the south side of La Crosse.  While you are here, you will get a crash course in perfumery and learn all about base notes and top notes and fragrance families.  And then the fun begins. You will sample 20 wonderful fragrances and experiment with them to create a wonderful combination to call your own. When you have settled on a formula, it's time to pick out a bottle and cap color. AND you get to choose a name for your perfume! The result will be a 15ml custom designed, custom labeled perfume that is all your own!  The three styles are shown in the top image. Of course bigger sizes and bottle styles are available.
So, what will you name YOUR signature fragrance?
Call me! Let's set something up!
608.386.5998
These elegant fragrances may be purchased individually in person or on line. Click on the "Originals" tab above or click here.