Perfume Academy – For The Aspiring Professional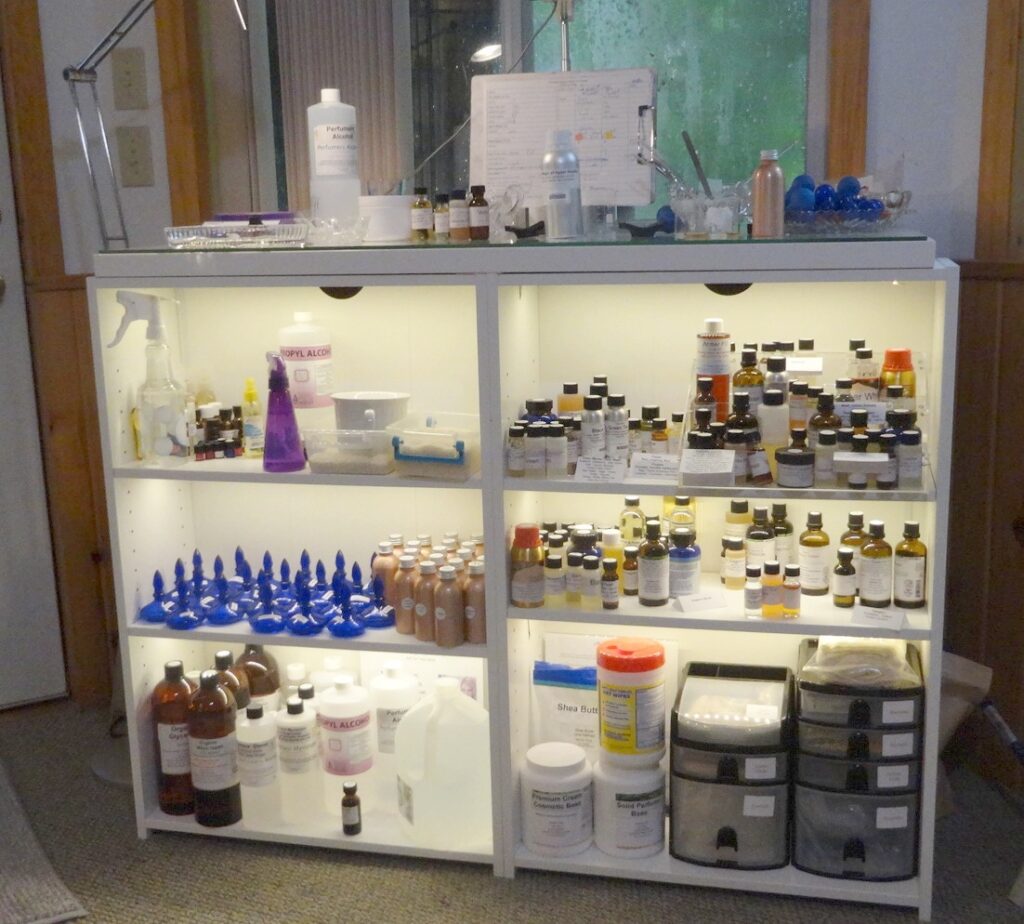 Perfume Academy For The Aspiring Professional
For the aspiring professional who wants to make perfumes with a goal toward eventually selling them, I offer the Perfume Academy – Professional on-line only course. Classes are taught on Zoom, one on one. You get one month of coaching, mentoring and advice to help you make your dream business a reality. More details are below.. Call to make your appointment. 608.386.5998
More details are below.
Fragrance Concentrations
• The Differences Between Perfume, Eau de Parfum, Eau de Toilette and Eau de Cologne
What Is Inside a Perfume?
• Fragrance Carriers (eg., alcohol, oil)
• Essential Oils
• Fragrance Oils
• Chemicals
How Fragrances are Organized
• Fragrance Pyramid
• Types Of Fragrance Notes
• Fragrance Families (They really don't have to be so complicated!)
A Glossary of Perfume Terminology
• For example, "what is "sillage" and how do you pronounce it?" 
Sources for Your Supplies
• Where to buy essential oils
• Where to buy fragrance oils
• Where to buy bottles
• Where to buy the tools of the trade
• Where to buy the rare and expensive essential oils
Understand Dilution
• How to calculate proper dilutions
• How to measure ingredients
Shopping List of Supplies for Your Studio and Where to Get Them
• Beakers, droppers
• Bottles, furniture and anything else
How to Set Up Your Perfume Studio
• Organize your oils so you can find them
• Label your oils
• Decorate your studio
How to Set Up a Display at a Craft Show or a Boutique
Charts, Charts and More Charts
• Charts to help you calculate oil to base ratios
• A handy chart to use every time you make a perfume
• A chart that describes EVERY fragrance oil and essential oil in my own collection. (That's about 400!) For example, it compares which company's version of Lily of the Valley is best and which one doesn't even come close.
• A glossary of all the fancy terminology used in perfumery
Suggested Videos
• There are sooo many Youtube videos to watch! But too many of them are done by people who have no idea how to make a perfume.
• I'll share with you who the big players are in perfumery videos.
Suggested Reading
• I'll share my reading list. These aren't books that are full of chemistry nor are they recipe books. (There are a lot of them, by the way!) These are books that are fun to read and give you insight into the world of perfumery.
Tips and Tricks to Make Your Life Easier and Save Money Too
• How to heat up thick resins
• How to not waste oils
• How to "wash dishes" at the end of the day
• How to stir the perfume
How to Make a Perfume
• I'll take you through designing a fragrance, making up drafts of the fragrance, doing the math, making a batch of the best one and putting it in a bottle with a label.