The Bespoke Custom Fragrance Experience
My name is Cheri Haüg and I craft custom fragrances for both women and men. You choose what goes into it. You choose what to name it! The result is a signature fragrance that is uniquely yours.
Gift certificates are available. A gift of the bespoke experience is perfect for a wedding, anniversary, Valentine's Day, Mothers' Day or for that person who's hard to buy for.
The Bespoke Custom Fragrance process takes place in my studio on the south side of La Crosse. This method of designing a fragrance gives you access to more than 400 essential oils and fragrance oils. We build your fragrance from the ground up. If you want it to be alcohol free, let's do it! If you want it to be all natural, we can do that too! We can make it simple or complex.
The fragrance can be anything you want it to be; feminine, masculine or unisex. It can be earthy or fresh, sensual or exotic; anything! You have complete control. This is a fun and interesting adventure into the world of perfumery. The end result is a fragrance that reflects your individuality, vibe and joy of life.
Call now to book an appointment! 608.386.5998
More details are below.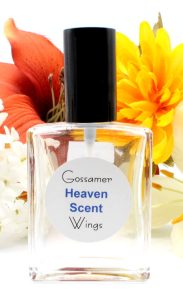 Schedule an appointment with me to meet in my perfume studio. Because this is an artistic experience that is all about you, guests are not permitted. For a shared experience I recommend the "Create Your Own Signature Scent" method. While you are here, you will get a crash course in perfumery and learn all about base notes and top notes and fragrance families. You will explore your fragrance personality, discovering your likes and dislikes about perfumes as you try various single note essential oils and fragrance oils. Examples of single notes are cedar wood essential oil, lily of the valley fragrance oil, lemon essential oil, amber essential oil and musk fragrance oil. This process takes about an hour and will serve as a guide for crafting your signature scent.
At our second meeting, you will sample various versions of the fragrance that I've designed for you. From there adjustments to the fragrance can be made as we settle on the best formula for your personal eau de parfum.
The cost is $105. You will receive a 30ml (1 oz.) custom labeled bottle of your fragrance along with a booklet that explains what we put into it. I will keep your formula on file for reorders and refills.
Your Signature Fragrance is here, waiting for you. Come find it!
Call me! Let's set something up!
608.386.5998